In the final blog post of this series, we share ways to make your marketing, specifically your direct mail more sustainable, something that BKM Marketing has incorporated into our marketing practice over the last few years.
---
TIP #6 | Tips to make your direct mail marketing campaign more environmentally friendly.
Be Responsible! Target efficiently and minimize waste.
Yes, direct mail can be eco-friendly! Any smart marketer would be remiss not to consider the topic of sustainability and environmental impact when considering a direct mail campaign.
SUSTAINABILITY IS TRENDING
Not surprisingly, incorporating sustainability into direct mail strategy is trending upward - and companies actually care!
Companies want to be seen as good citizens.
They want to be on the right side of history, and with sustainability being a key initiative to both Millennials and Generation Z, many companies think it is simply good for business.
Many companies are even allocating space in their mailers to remind clients and prospects of their commitment to the environment.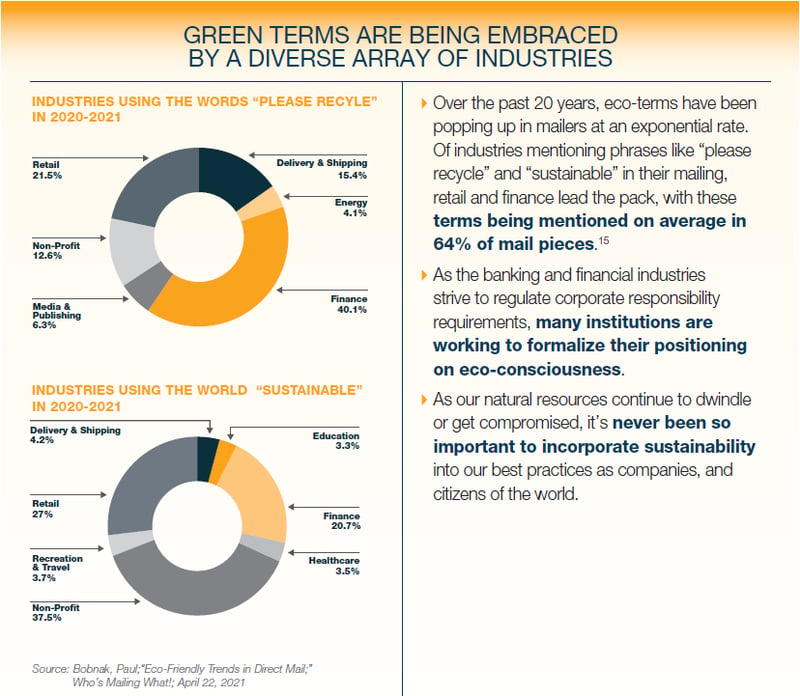 OFFSETTING OUR CARBON FOOTPRINT EFFICIENTLY
Just like everyone else, we at BKM Marketing, are part of the problem. It is no secret that we generate millions of pieces of direct mail for our clients each year.
As both our clients' and our own business continues to grow, our carbon footprint does as well. We feel we have a responsibility to ourselves and future generations to offset the negative environmental impact we are causing.
At BKM Marketing, we are determined to constantly find ways to reduce our carbon emissions and are committed to using carbon offsets to mitigate the impact of our emissions.

Net Zero Now.
At BKM Marketing, sustainability is not a trend. It is a cornerstone of our business ethics, long before we created the BKM internal Sustainability Taskforce in 2020, and it is a way of doing business that we are committed to.
In 2023, we look forward to entering our third year of having a NET ZERO Carbon Footprint.
We take pride in our ongoing commitment to sustainability through our Net Zero Now program and are committed to our Net Zero Now pledge to continue to:
1. We help clients develop effective marketing

programs with lower climate impact.
2. We operate at or below net-zero CO2 emissions via climate-friendly behavior and carbon offsets.
3. We

neutralize the carbon impact

of client digital and print marketing programs we manage through forest replenishment and other offsets - at our own expense.
Now, how can you do it?
GO GREEN WITH YOUR MARKETING: OUR CARBON OFFSET SOLUTIONS ARE A START
The obvious first step is to start with recycled paper stock or one with higher post-consumer recycled content - but this is not the only option.
Working with FSC Certified manufacturers, using alternative ink options, or by skipping unnecessary add-on materials such as adhesives, are all great ways to increase the recyclability of your direct mail.
Forest Stewardship Council (FSC) Certification
Paper manufacturers have the option to become certified by the Forest Stewardship Council (FSC).
An FSC certification ensures that paper products come from responsibly managed forests that provide environmental, social and economic benefits.
Alternative Non-Toxic
Inks
Non-toxic ink alternatives, such as argi-based (soy or water) inks, are a safe, high-quality alternative to toxic inks. Toxic inks are difficult to strip from paper, so even recyclable paper can be non-recyclable if toxic inks are used that cannot be stripped away.
Skip the Adhesives!
Adhesives can also make a recyclable paper into a non-recyclable material if the adhesive is non-recyclable, as they are often difficult to strip away. If you can skip using adhesives without compromising the integrity of your direct mail piece, skip them!
But of course, it is not only about the materials that you use.
Incorporating Sustainability
Into

Marketing Campaigns

Sustainability spans all facets of small businesses and environmentally-friendly efforts can be seamlessly incorporated throughout all stages of marketing campaigns.

Modern targeting and production practices can limit direct mail quantities, improve response rates, and achieve surprisingly low net carbon impact.
[6] Tips to Make Your Marketing
Campaign More Environmentally Friendly
1. Update your mailing list.

Regularly update and improve your mailing lists to limit duplication and waste.

2. Use research to effectively target customers.

Folks who live in apartment buildings, for example, probably don't need lawn services.

3. Embrace the value of opting out.

Allow customers to opt out of your mailings to ensure you're not sending them unwanted mail.

4. Use Recycled Materials.

Leverage recycled paper stock or one with higher post-consumer recycled content.

5. Print Double Sided.

Print on both sides of the paper to save resources and reduce mailing costs.

6. Spread the Word.

Encourage your customers to recycle the mailing once they've read it, and tell them how you made your mailing as green as possible.
The key takeaway? Be Responsible! Target efficiently and minimize waste.
To learn more about BKM Marketing's sustainability initiative visit

NetZeroNow.Marketing >
---
Tip 6 | Tips to make your direct marketing campaign more environmentally friendly.
EFFICIENCIES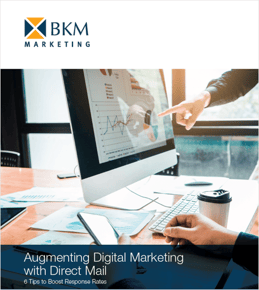 And last, but not least, stay tuned for next week's Key Takeaways...
---
Quick links to other posts in this series
Sources: United States Postal Service.