Welcome back! This week in our series, 6 tips to boost your direct marketing response rates, we are focused on the importance of an integrated marketing mix. You've heard it before, and you'll hear it again, being in more than one channel at one time will improve your response.
---
TIP 2 | The Importance of an Integrated Marketing Mix.
Integrating online and offline strategies to optimize your campaign results.
Whether you live in the city or the 'burbs, commute or work remotely, spend your days indoors or outdoors, or prefer solitary activities to group ones, you're likely aware that you are inundated with messaging before you've had time to reply to your first email.
Customer Driven Communication
As a marketer, you know the importance of reaching the right person in the right place at the right time. Increasingly, this approach is less straightforward to predict, as consumers' habits of absorbing information continue to evolve. It's important to recognize who your customer is, how they consume information, and how to center your communication approach around them to align marketing objectives with business goals.
Now more than ever, consumers rely on digital media and information sources to research products and services. Brands with exceptional online strategies and presence have an advantage, especially if they can rank high in the consideration set against competitors.
However, online media suffers from its own success. Why?
Multitouch Communication Strategies
Marketers create so much online content, display ads, social ads, videos, and email that it becomes difficult to break through the clutter.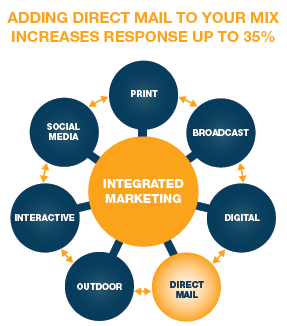 It is essential to augment your digital presence with traditional and offline communication strategies such as print, outdoor, social, broadcast, and direct mail.
Creating a multitouch communication strategy ensures that

your brand is top of mind

throughout the consumer's decision-making process.
An integrated campaign offsets consumers having different consumption preferences. You can reach the radio-listening, newspaper-reading, and billboard viewers along with the podcast-listening, and working-from-home digitally minded consumers. Different brands will have a variety of consumer segments enter their sales funnel in many different ways.
It is important to understand the customer journey in order to identify opportunities for interactions with your brand. Alignment across sales and marketing and transparency within different channels and media/marketing partners is critical.
TIP 2 | Importance of an Integrated Marketing Mix
MULTITOUCH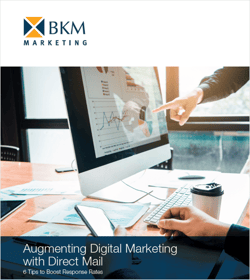 Stay tuned for next week's Tip #3 | Why and When to Use Direct Mail...
---
Quick links to other posts in this series