In the last two blog posts of this series, we've talked about the importance of knowing your audience and about leveraging a multichannel approach. In the third post of this series, we're going to highlight the advantages of adding direct mail to your marketing mix and why it can be so impactful.
---
TIP #3 | Why + When to Use Direct Mail.
D

irect mail works especially well for verticals that need to create demand for their offers, such as banking, credit cards, fundraising, insurance, home improvement, communications, retail (catalogs), and many other

s.
One of the unique features of direct mail is that it can enter a prospect's home and be present with them for any amount of time. In fact, the average lifespan of a direct mail piece is 17 days versus just 2 seconds for a marketing email.
Average Lifespan
7 DAYS

Direct Mail

2 SECONDS

Email
If key strategic elements are applied to the mail piece, it can get stuck to the fridge or live in a to-do pile, as opposed to meeting a sad fate in the trash.
Advantages of Direct Mail
Direct mail offers several advantages for achieving marketing objectives. When combined with effective strategy and other tactical elements, direct mail can be instrumental in driving the success of a campaign.
| | |
| --- | --- |
| MARKETING OBJECTIVE | DIRECT MAIL ADVANTAGES |
| Build Brand Awareness | Efficiently targets specific audiences to deliver high impact messaging and offers to qualified prospects. While more costly to send than email, response rates and conversion rates are dramatically higher (as much as 37x). |
| Demand Generation | Consumers and businesses often don't search for items they actually need, such as life insurance, banking services, lawn care, roofing, clothing and so on. Effective offers delivered by direct mail stimulates demand and engagement for your products and services. |
| Lead Generation | Works well as an entry point for long sales cycles (B2B). Direct mail's high retention rate can open the door for future conversations. |
| Existing Customer Cross-Sell | Works well for adding to existing relationships (marketing loans to bank depositors). Customers will pay attention to your mail piece as they are connected to your brand. In fact, consumer claim they are 46% more likely to respond to an offer from a familiar company. |
| Account-Based Marketing (ABM) | Using direct mail is more powerful than e-channels for targeting specific individuals in corporations. Done well, direct mail delivered to multiple contacts in an organization can create awereness, engagement and faster closes. |
| Break Through Clutter | Unlike online tactics, direct mail can take on many different, attention-grabbing formats – from oversized postcards to 3D mailers. This is why direct mail response rates can be up to 9x greater than digital display ads, which on average only yield a 0.3% response rate. |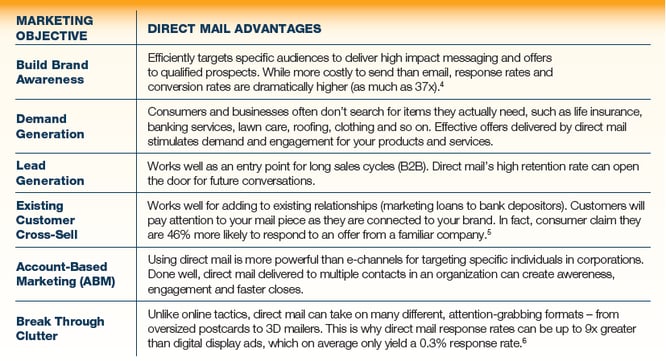 What makes direct mail so impactful?
Agencies that specialize in direct mail understand how to develop campaigns that leverage these key drivers. As with any marketing channel, messaging that reaches carefully targeted prospects with a strong offer inspires action.
Let's break down the 3 core elements.
Core Elements of Direct Mail
| | | |
| --- | --- | --- |
| 1. List | 2. Offer | 3. Creative |
Direct mail offers the unique advantage of tangibility. Recipients can hold the offer in their hands, save it, and emotionally connect with it. This is why mail creates higher recall than online messaging received in a cluttered digital environment.
Direct mail

offers the unique advantage of

tangibility

.
The direct mail piece should be memorable to the customer. The piece should stand out in the mail pile, perhaps through an oversized format, a textured paper stock, or a protective poly bag, to name a few.
Headline copy should convey urgency to open it, whether it's a feeling of exclusivity, a limited-time offer, or some other appeal to emotions.
Tip 3 | Why + When to Use Direct Mail.
MEMORABLE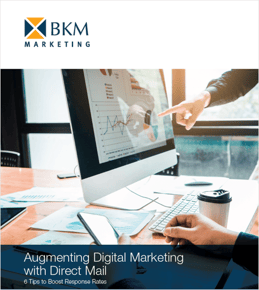 And stay tuned for next week's Tip #4 |Test Something New with Every Marketing Campaign...
---
Quick links to other posts in this series
Sources:
Niblock, Rosie. "Infographic: Direct Mail vs. Email". 15 February 2017, https://www.digitaldoughnut.com/articles/2017/february/infographic-direct-mail-vs-email.
The Association of National Advertisers(ANA), "ANA/DMA Response Rate Report 2018" https://www.ana.net.
Tax Marketing HQ via DM Stats Modern Postcard, https://www.modernpostcard.com/blog/direct-mail-statistics.
Warranty Week (via Modern Postcard DM Stats), https://www.modernpostcard.com/blog/direct-mail-statistics .