Laura Costello
Managing Director, Creative Services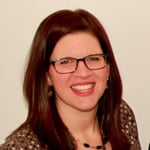 Laura brings over 20 years of strategic marketing and client service experience to BKM Marketing. As Managing Director for Creative Services, Laura leads and manages multiple client relationships, while overseeing the creative and digital aspects of all client programs. As the primary contact for our clients, Laura directs their programs through planning, design, and development to create marketing materials that generate results.
Prior to joining BKM, Laura was the VP for Client Relations at Keating Associates, a leading academic marketing agency. She worked closely with clients like St. Joseph's College, NY and Sacred Heart University to develop breakthrough marketing communications programs including radio and print advertising, print collateral, public relations, website development, and direct mail programs.
Before Keating, Laura was the Manager of Integrated Marketing Services at Protocol Marketing Group. At Protocol she was charged with the day-to-day management of the Creative Department, working with the Client Service team and their clients, assuring that all marketing materials reach their goals in a manner appropriate within their branding guidelines and sales objectives. She also worked closely with the corporate marketing group of Protocol, assisting in the strategic and creative development of all of their marketing materials, including their website and corporate brochure.
Laura received her B.A. in psychology from Clark University, where she completed a two-year marketing/public relations internship at Papyrus Design Group.

Connect with Laura on LinkedIn.