CEO and Founder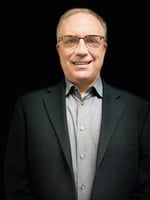 As the founder of BKM Marketing Associates, Bruce's roots in client-side marketing transcends into a unique understanding of our clients' passion for generating results. At the same time, he strongly believes that the agency and consulting side is first and foremost a service business based on achieving and surpassing client expectations. These values — results and service — form the core of every client relationship.
Get to know Bruce:
When you were 10, what did you want to be when you grew up? Are you doing it now?
I was the neighborhood kid that was always selling something door-to-door—seeds, magazine subscriptions, newspapers, lawn mowing, snow shoveling, you name it. This passion propelled me through college and business school. My DNA contains some behavioral helix that seeks to match efficient solutions to people's needs. Today at BKM Marketing, we help clients do the exact same thing.
What are you most grateful for?
I'm grateful for absolutely everything—both the good and not-so-good. I'm very fortunate for my family, our team here at BKM, and of course our clients. However, the greatest gifts of all are the lessons we learn, or the doors that open, from the inevitable challenges life presents. A very relevant example is the genesis of BKM Marketing itself, which stemmed from an abrupt corporate downsizing.
Name five words that best describe you.
Inquisitive. Confident. Helpful. Fearless. Focused.
What are three lessons you've learned in your career that you'd pass along to others?
Don't overpromise. Do over deliver.
Clients expect a lot, and they should. We win a lot of business from agencies that set themselves up to fail by setting unrealistic expectations. It's easy to get a first project. It's much tougher to earn a 2nd. This is simply a fact of life that applies to every situation—at home, in the office, in politics, and on the athletic field.


Embrace the opportunity to learn.
Very few industries evolve faster than marketing services. And with the advent of AI, machines now learn more quickly than humans. Teach yourself how to read data, identify trends, and separate nuggets from the clutter, and make informed decisions.


Remember the Big Picture.
With all the data, messages, devices, competitors, traffic, and noise out there, it's easy to lose sight of Marketing's Bill of Rights: Put the right offer in front of the right audience at the right time, with the right message.
How do you stay fresh creatively and strategically?
Few things replenish me more than connecting with the powers of nature—especially around the ocean in warm weather and the mountains in cold weather. Paddling through high seas in a rowing shell or battling gravity on skis connects me to powers greater than all of us—a humbling feeling that refuels my cells, restores my perspective, and clears brain clutter for fresh thinking.
Who are your heroes?
Jimmy Buffett and Warren Buffett are awesome, but the real heroes are the people who tirelessly spend their lives creating a better world for others. The obvious ones include the military, first responders, ER staff, and teachers. But the ones that impress me the most are the invisible heroes we see every day-- like single parents, cancer patients, or immigrants seeking a better life for their children.

Connect with Bruce on LinkedIn.