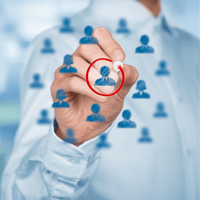 Year-over-year many bank marketers are asked to do more, and to produce greater results than the prior year, but with the same budget.
As we head into 2021, the expectation has not changed, if anything, with the pandemic it's gotten even more challenging. Especially as budget dollars have, in many cases, been reallocated to support digital enhancements.
As a result of needing to do more with a flat budget, we find ourselves asking, "how are we going to get this all done". Zeroing in on your target audience in one proven way to not only maximize your budget but to also maximize response.
In the following article published by BankBeat, Define your target market to stretch your marketing budget, Megan Allinson, our Integrated Marketing Director, explores three ways targeting can help marketers make the most of their budgets.
Leveraging look-alike models to expand relationships with existing customers. Using information from look-alike models can help to identify which of your customers resemble your most profitable ones. With this insight you can then target your next best customers to convert into top performers.
Conducting data snapshots and appends to more accurately target and acquire new customers. Data appends to prospect lists based on customer profiling can help you narrow in on audiences that look most like your customers resulting in a more targeted prospect campaign.
Analyze prior campaigns and optimize for future targeting. Analyzing data from previous campaigns can give you great insights into audiences who are and aren't responding. This knowledge can be carried forward to make continuous improvements on future campaigns.
---
Are you a marketer trying to determine your target audience and drive new business? Contact us to learn how we work with our clients to understand who their target audiences are and develop the right communications to meet business challenges and goals.