Did you know that 33% of consumers regularly use more than three (3) channels when making purchases, yet only 14% of organizations claim their currently running coordinated campaigns across channels?1
In this customer-centric, audience first world it seems as though more companies would feel confident about running coordinated marketing campaigns than currently do, especially because as marketers we've long acknowledged that one single ad, promotion or communication is not going to move the needle and influence someone to purchase our product or service.
If you're among the 86% of marketers who don't feel confident about effective cross channel campaigns, then I encourage you to take a look at these seven (7) tips to help optimize response and conversion in a multi-channel, multi-touch world.
1. Reach people where they are in their buying journey to move them along the path to purchase. Whether someone is in the purchase phase or research phase make sure the information they're seeing (be it what you're providing to them or what they're finding) is relevant to where they are in their journey. For example someone who is researching (ie. in the early stages of purchase) may need more product information including comparison information whereas someone getting ready to make a purchase may just need a little reminder that a specific offer is available to them.
To illustrate, let's say someone is shopping on your website and gets all the way to the shopping cart, then closes the browser. To effectively move this shopper closer to purchasing, a simple reminder may do the trick through a triggered email with incentive or via a retargeting strategy.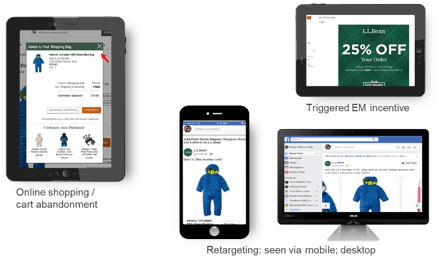 2. Touch people multiple times with your message. Why? It takes an average of 9.5 touches to create a sale! This may seem overwhelming, but don't worry, these touches happen more frequently and quickly than you'd think. Think about the discovery and consideration phases of the buying journey – people are doing their research and that equates to a touch.
The other thing to remember is that not all of these touches need to come from you. They can come from competitors, reviews, publications, etc. However, if you want to remain in the consideration set it's important to engage frequently with your audience. And, remember people are seeing messages in more than one channel so make sure to be thinking about the channels your audiences are using when you're planning a multi-touch campaign.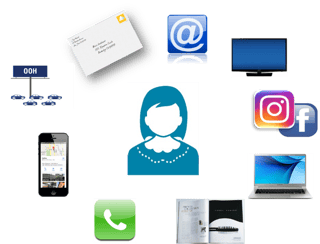 3. Make sure your message is consistent across devices. We live in a multi-platform world. One minute consumers are seeing your ad in an app or looking at an email on their phone and the next minute they're on their tablet or desktop. This means it's even more important for marketers to be providing a consistent, coherent message and experience across devices.
One way to do this is to check your digital display ad, email, website or other related content on different devices prior to publishing. Many web, CRM, and marketing automation platforms allow you to view experiences across devices prior to publishing to ensure that the delivery of your message is consistent from platform to platform and device to device.
Fun Facts
4 – is the average number of devices consumers own
3 – is the average number of hours one spends per day on their mobile device
86% - is the percentage of emails viewed at one point on mobile.2
4. Make it easy for prospects to find what they're looking for. Forty-eight percent (48%) of consumers start research with a search engine.3 For this very reason alone search has become a critical component of the multi-channel, multi-touch experience. And often, it represents the first touch.


If you're someone who is not as familiar with getting a search campaign started here are a few simple steps that you can follow:
Identify key search terms based on how people are searching for your product/service
Make sure those terms are within the contents of your website including copy, headlines, and alt image tags
Leverage key search terms in ad word campaigns such as Google AdWords. A platform like Google AdWords will step you through setting up a search campaign
5. Connect touch points across channels for greater effectiveness. As marketers we need to make sure that not only are our customers and prospects are receiving cohesive and connected messages across devices but also across channels.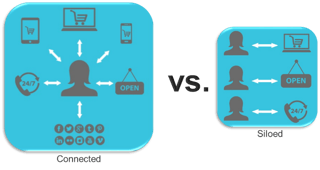 To truly provide this Omni-channel experience one needs to make sure their marketing technology stack and CRM tools are fully integrated. While this is often a core challenge and sensitive topic, especially if you're working within an organization with legacy systems and just starting to implement different marketing technologies, it can be done.
One way to connect messaging across different channels is to plan from the top. Marketing and channel leads need align on core objectives, messaging, and timing to inform campaigns which can then be delivered to your audience through different channels while maintaining a clear and consistent message.
6. Deliver the RIGHT Message at the RIGHT Time in the RIGHT place. While this isn't a new learning it's a tried and true direct marketing best practice and always worth reinforcing. Tip # 5 referenced the perfect scenario of connectedness where you're using marketing automation and CRM tools to deliver connected touches. In a perfect world we'd all have the right marketing stacks in place and delivering the right message at the right time in the right place would be effortless. However that's not the case, but what we can do is drive our target audience to content hub where they can locate and find information easily when they're ready for it versus continuously pushing information on them that they're not ready to consume.
Online hubs like this one pictured below allow customers to find what they're looking for when they need it – all in one centralized location. Simple touches can then be used to drive to the hub.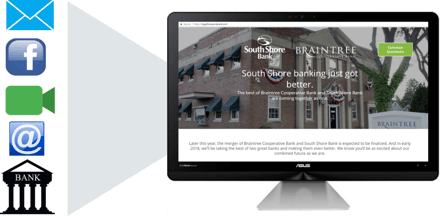 7. Move your audience with reminders and retargeting. The idea is two-fold. Not only do you want to stay top of mind, but you want to offer your audience additional information each time so that they feel better informed and more empowered to make that purchase.
For example, one of our client's is in the travel industry and plans annual golf tournaments. One thing we're doing right now is building momentum and engaging with interested parties. The ultimate goal is getting interested parties to book a golf trip for next summer. The following schematic provides a simple example of how to leverage reminders and user retargeting.
To summarize, reaching people in multiple channels at multiple touchpoints will increase the likelihood of improving current response and conversion. Therefore, I encourage you to identify a couple of different tips and see how you can work them into your marketing efforts.
1. CMO by Adobe, Three Issues Hindering Progress In Multichannel Marketing
2. Majority of email is viewed on a mobile device. According to Kahuna data, 86% of emails in Q1 2016 were opened on a mobile device
3. 48% of consumers start mobile research with a search engine - Smart Insights, 2016 (Source: https://www.hubspot.com/marketing-statistics)