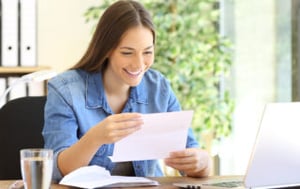 Now more than ever, we've seen a huge push toward digital servicing as many companies shift their models due to the current pandemic.
While institutions migrate retail and small business customers online, digital marketing channels are more cluttered than ever. With more people homebound for the foreseeable future, it's likely that direct mail will become even more effective - especially within a multi-channel approach to engage current customers and attract new ones.
Recently published in BAI Banking Strategies, the following article, Using direct mail to break through the digital marketing clutter, written by our Integrated Marketing Director, Megan Allinson, discusses three ways to ensure direct mail is working as well as it can be:
Use direct mail to enhance digital performance
Take advantage of direct mail's superior targeting precision
Personalize and test behavioral triggers
---
Are you a marketer trying to determine the right marketing channel mix to reach your target audience and drive new business? Contact us to learn how we work with our clients to develop the right communications plan based on their unique business challenges and goals.