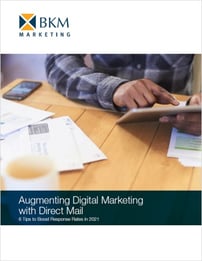 As we move into a new year, many marketers are hopeful about bouncing back from the challenges of 2020. Now is the time to expand your marketing strategy with tips and tools to best position your campaigns for success.
With BKM Marketing's new eBook, Augmenting Digital Marketing with Direct Mail, 6 Tips to Boost Response Rates in 2021, you'll learn how to do just that.
This eBook gives insight into understanding your audience, breaks down the top drivers of success for ROI-focused campaigns, outlines where direct mail can be most effective, and introduces ways to integrate digital strategy with direct mail.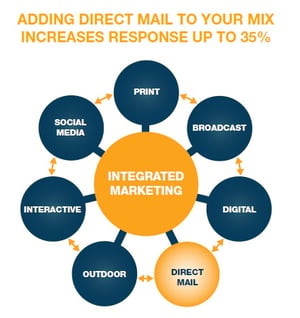 6 Tips to Boost Response Rates in 2021:
Learn everything you can about your audience's needs, purchase behavior, buying triggers, and media preferences.
Integrate online and offline strategies to optimize your campaign results.
Direct mail works especially well for verticals that need to create demand for their offers, such as banking, credit cards, fundraising, insurance, home improvement, communications, retail (catalogs), and many others.
Test something new with every marketing campaign to maximize your long-term ROI.
Take advantage of marketing technology in order to better reach and understand your audience.
Be responsible! Target efficiently, and minimize waste.
Download the eBook HERE and learn how to best use these tips for your upcoming initiatives.