This is part of an ongoing series of posts relating to the direct mail industry
Some of you may have heard that the Post Office is now offering a custom direct mail indicia option that can include your logo, tag line or corporate branding elements and thought, "That sounds really cool". Those of you who have not heard of this may be wondering, "What have I been missing and why haven't I heard of this before now"?
Let me provide you with a brief overview of this new offering from the Post Office with some of the pros and cons.
Overview | Direct Mail + Picture Permit Indicia
In a nutshell, the Post Office is now allowing businesses to include promotional elements in the traditional indicia area of their direct mail pieces. These include options like your logo, company name, branding elements, tag lines, and more.
In Post Office speak it is: "Picture Permit Imprint Indicia is a new offering that provides commercial mailers with the opportunity to creatively add value to their mail piece. You can customize your permit indicia by incorporating a logo, brand images, or trademarks along with required information. This provides immediate recognition of your company's logo, products, promotions, and brands, which could improve the effectiveness of the overall mailing."
The specifics are:
Size of customizable area: Height .84"-1.00" & Width 1.31"-1.50"
The image is to be positioned in the middle of the traditional indicia copy - see below
The image MUST be in color - it cannot be black and white
Pros
Picture Permit can be used for First Class and Standard Class letter sized and postcard direct mail
Increase brand awareness
Further promote your company's products and services
Boost direct mail piece visibility through the "WOW!" factor
Upcoming Post Office promotion to waive additional $.01 - .02 per piece fee
Cons
Must complete a lengthy multi-step pre-approval process
Submit written application which can take 2-4 months to get approved
Once the application is approved, for EACH mail package you must submit a PDF sample
Once the PDF is approved – you must submit 500 hard copy printed mail pieces for final approval – this must be done for each different mail package you want to mail. Steps 2 and 3 can take up to 45 days.
The mail piece must use the "full service" IMB (Intelligent Mail Barcode) service: Note: many small to medium sized mailers do not yet offer the "full" service IMB due to the costs involved.
There is an additional per piece cost of $.01 for First Class and $.02 for Standard Class
Relevance – With most of the address panel available for branding – including the usual company logo above the return address, why do we need to have branding within the indicia?
In summary, while I commend the Post Office for trying to come up with ideas to increase mail volume through new services designed to increase response rates, this attempt seems to have too many downsides to be successful. From the bureaucratic approval process and additional cost to the actual relevance of the service, it is a lot of work and expense for not much return.
PICTURE PERMIT INDICIA PLACEMENT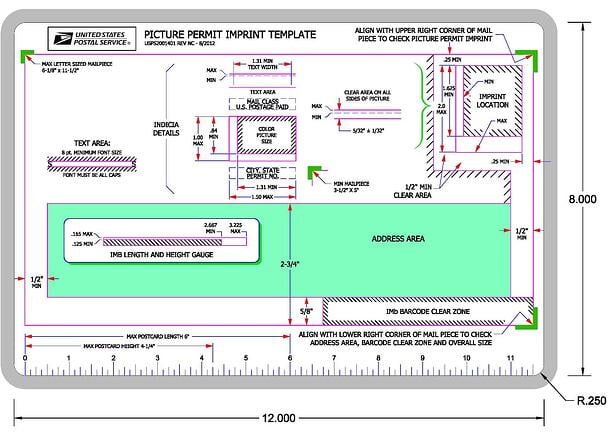 ENLARGED DETAILS FOR CUSTOM INDICIA SIZES AND PLACEMENT