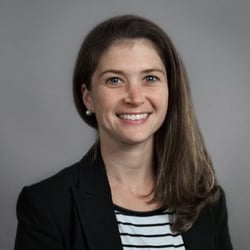 BKM Marketing is pleased to announce the hiring of strategic marketer, Megan Allinson.
Megan brings over 14 years of marketing experience to BKM Marketing. As the Integrated Marketing Director, Megan will partner with clients to develop their marketing communication plans and strategies, with a specific focus on content marketing programs and multichannel campaigns.
Megan's background ranges across multiple marketing disciplines including digital and direct, relationship marketing, and traditional advertising, while her industry expertise encompasses financial services, insurance, travel & hospitality, and healthcare.
"I am excited about the opportunities that Megan is bringing to the table for our clients and for BKM," says Laura Costello, Managing Director for Creative Services. "Her expertise in leading complex marketing strategies paired with her insights into additional channel options will be a significant driver leading to client success."

Connect with Megan on LinkedIn.