How to Lower Printing Costs: Part #2 - "Gang Printing" - Combining Print Runs for Multiple Items
For some of our more complex campaigns that have multiple printed components, multiple waves of mail, or even multiple package designs, we find you can save a large amount of money by printing multiple items in a single press run. Here is how it works.
In commercial printing, printing presses print onto "press sheets" – very large sheets of paper such as 22" x 28", 25" x 38", or 28" x 40". Lets say you are printing an 8.5" x 11" brochure – the printer will print 4, 6, 8 or even 9 brochures on a single press sheet. What we always strive to do if we have multiple components printing on the same stock is to have the printer put all the components a single press sheet. Whether you are printing multiple versions of the same sized piece or even completely different sized pieces, this technique can save you a lot of money in printing press set-up charges, press time, and paper. On press, the sheets can look something like this: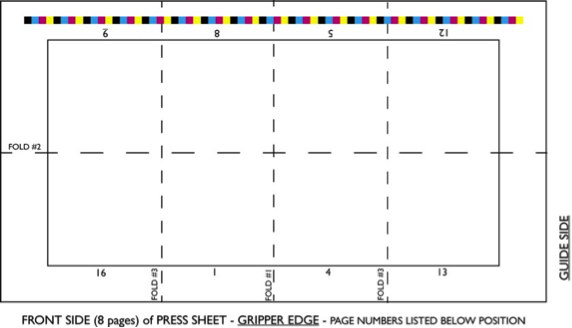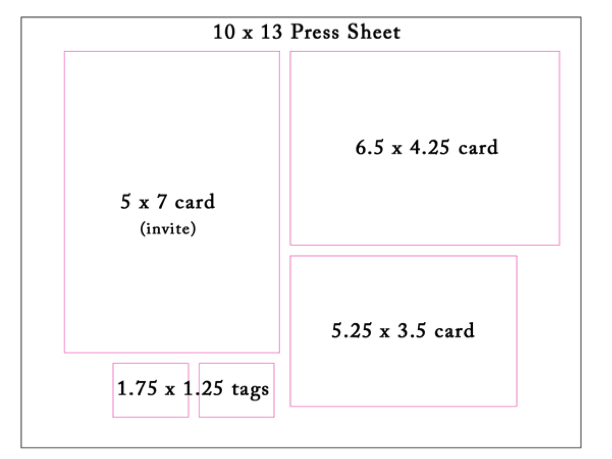 In terms of the planning, here is what you need to do:
When obtaining quotes from your printing partners be sure to point out that you want a combined print run – this way they know how to estimate it. Also, don't be afraid to shop it around; the size press that each printer has will determine how many pieces they can fit onto a press sheet and the cost effectiveness of the process. Different presses = different costs!
Coordinate with the creative team to be sure that all versions of the art files will be ready and released at the same time.
Paper stock: Choose a common paper stock. Sometimes this may require adjusting the stock for one or more of the pieces but in many cases this will not have a significant impact on the finished package. And you will still pocket a substantial net savings, increasing your ROI!