Next to postage, printing is often the next most costly element of a direct mail campaign. Lower your printing costs and your ROI will skyrocket, making your campaigns much more profitable - turning you into an office hero. In this series, I will review 5 ways to reduce your printing costs without sacrificing response rates.
How to Lower Printing Costs – Part #1: The Art and Science of How to Use Pre-Printed Shells
Many of the direct mail campaigns we develop for clients will test different offers, require targeted copy points for subsets of the target audience, or simply highlight different product or service benefits. This usually requires pre-printing multiple versions of the letterhead which increases the cost for both printing and the mailing functions, not to mention adding complexity and increased chance of error to the overall program complexity.
There is an easy technique to overcome this versioning challenge: design a letterhead shell (shown in picture below) that incorporates pre-printed shaded color call out boxes that can contain variable offer and copy language. This can be done in a variety of areas on the sheet – including a Johnson Box and a Side Bar box. During the laser personalization stage, you can flow in as many versions of the letter copy as you need.
This is also a great technique when you have an ongoing campaign that mails on a weekly or monthly basis. Print up a 3 - 6 month supply ahead of time – and save.
Hint – When designing the screened box, do not exceed 12% – 15% of the shaded color. Variable laser toner has a hard time adhering to more saturated colors and tends to flake off.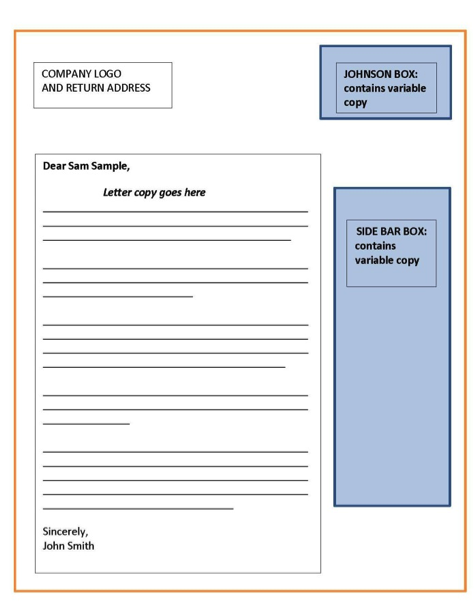 I'm always happy to discuss printing questions and scenarios, so don't hesitate to give me a call at 781-741-8005 if you're running into a situation that you aren't sure how to deal with. I'd welcome the chance to offer my recommendations!