This post is part of a series about Internet Marketing.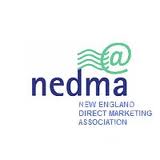 After a long hiatus, I had the chance to return to my first NEDMA conference this week. Not only was I pleasantly surprised by all of the familiar faces that I saw immediately upon walking into the Conference Center at Bentley, but I've only been back in the office for one day and I have already referenced information that I picked up at the sessions multiple times!
As all direct marketers know, direct marketing of 2013 is not the direct marketing of 2005, and it's definitely not the direct marketing of the 90s! New integrated marketing options across all channels including mail, online, social media, and mobile provide opportunities for marketers that we couldn't have imagined just 10 years ago. That means there are always new technologies to learn and test for our clients! I was so excited about some of the nuggets that I picked up yesterday that I wanted to share some of them here.
Going Mobile!
A major theme of many of the sessions that I attended yesterday centered around mobile. From mobile advertising to mobile apps and mobile commerce, there's no question that our phones have become a centerpiece of all of our days. As the guys from Google shared in their keynote presentation, the average person is checking their phone 150 times throughout the day. 150 times! That leaves no doubt that marketers need to be using smart and relevant methods of reaching people where they already are.
Ted McNulty from Jumptap had some great examples of mobile advertising that has had high success rates for their clients. The creative that was getting results would surprise you – it wasn't pretty, but it worked! He also discussed new options for multi-screen advertising, following people as they move from their desktops to their tablet to their smartphones using their email address. The idea that you can identify and reach someone in a variety of channels with consistent messaging is an opportunity that we won't be able to pass up.
And Then What?
Harry Gold from Overdrive gave a great talk – as always. A big take-away from his session (which I'll never forget since we all repeated it multiple times) was the phrase "and then what?" Simple, but such a great reminder for when we're developing programs for our clients. Get someone to click to a landing page…and then what? A new lead fills out a form…and then what? Send a prospect an email…and then what? I know that phrase will always be in the back of my mind when developing marketing strategies moving forward.
Another great point that Harry made ties back to my last blog post about retargeting, with his suggestion to use A/B testing with landing pages and multiple retargeting messages for those who have converted and those who haven't. You don't want to be trying to sell the same product to someone who has already bought it from you…but why not use that opportunity instead to cross-sell?
It's not always about Who?
The last session that I'll mention was the social media panel discussion with Bob Cargill, Craig Blake, Myles Bristowe and Carla Gates. I started using bits and pieces of what they shared already yesterday, and Myles' blog (http://www.todaysmarketingcookie.com) came up in our own internal marketing meeting about our blog just this morning. My favorite quote of the session was from Carla. When talking about content marketing do's and don'ts she shared the simple, yet sometimes easy to forget point that "it's not always about you." Perfect example: right after the bombing at the Boston Marathon might not be the best time for a resort to post "It's been a tough day…schedule your summer vacation with us today." (Yes, I really did see that on Marathon Monday). As marketers, we are always looking for the best angle for our clients or our products, but we need to remember that it's not always about us.
With so much informative content, that was just a few of the takeaways I will certainly be putting into practice in the coming months. Were you at NEDMA 2013? What did you learn?