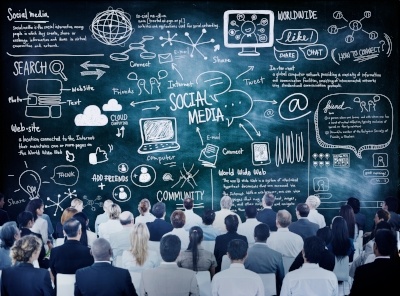 You don't need to spend much time on social media these days to realize just how overwhelming it is to process the constant stream of new content. And with research showing the strong correlation between number of posts per month to increased web traffic, this trend is only continuing to grow.
But even if your posts can cut through the content clutter, a recent blog post we read noted that clicks don't necessarily equal engagement - in fact 55% of visitors to your posts spend just 15 seconds or less actually reading what you posted. Another article noted that socially, most readers only try to determine the relevance to them and then cease reading once they determine if the agree or disagree with your perspective. Just because they agree, doesn't mean they will keep reading. And that's not even getting into the fact that 6 out of 10 people who share content never even read it!
No kidding, building and maintaining relevant content is a real challenge.
We always have questions regarding what your marketing efforts tell us about your bank's strategy:
Who is your intended audience - do you even have one?
How do you connect with them?
What are their concerns?
How and where do they like to process information?
Your key messages and who you are communicating in a Small Business Term Loan marketing campaign are clear - but can we decipher the same type of information from your social media posts?

Are your efforts thoughtful and strategic?
Content marketing has historically been used in the financial sector as a 'me too' offering, with only 37% of financial marketers actually following a documented content marketing strategy. Many companies continue to struggle to establish a content beachhead that is relevant and compelling, so they settle to present their company as a participant as not to be perceived outside of the trend.
Face it - producing engaging content consistently is time-consuming, can be resource intensive and becomes a challenge for financial marketers who are already pulled in many directions.
So what does all of this mean to a bank trying to cut through the noise - and what is the REAL picture of today's bank content marketing?
We had the same questions, so we decided to conduct a brief study.
We wondered if there is anything behind some of the numbers that we follow from The Financial Brand each quarter in their Power 100 Social Media Database for banks, and randomly selected fifteen financial institutions to follow over a two week period; we know, not quantitatively scientific but qualitatively interesting nonetheless. The fifteen banks were evenly divided into three segments:
Five traditional national and super regional US banks

Five traditional community and regional US banks (generally under $10 billion in assets); and

Five non-traditional banks (virtual banks with no branches)
Our objective: assess not only how active these banks are in social media but what they actually post through four channels: Facebook, Twitter, LinkedIn and YouTube. Companies were selected to represent a cross-section of brands that currently publish or re-purpose content on at least a weekly basis.
All bank posts were assessed for frequency and content theme as well as original vs. re-purposed content and BKM's interpretation of the intended audience. Findings are intended to highlight opportunities as well as challenges to deliver content that aligns bank strategy, bank brand and intended audience.
As we come up for air from our two-week social media immersion, be on the lookout for our findings next week.
Some of what you'll see will be no surprise, some will be what we know as best practices - and frankly some are real head scratchers. Care to guess where your business stands?