Change in banking isn't coming...it's here!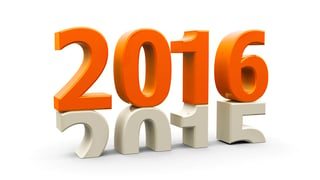 So we are almost one month into the New Year and by now, all of us have consumed a wide variety of 2016 outlooks from the best prognosticators following the banking industry.
I always find it interesting to gauge whether this year's version of 'trends' and 'game-changers' is really materially different from previous years or just delivers a few new positioning modifications - like 'define a digital marketing strategy for our bank' to 'explore new opportunities for digital banking at our bank'.
What's great about outlooks is that they can generate strategic and visionary conversations and energize teams around what is possible - the challenge is that success is always a reflection of capable execution and too many times vision and execution do not align.
The road forward
As we look at the broad landscape of bank marketing and strategy these days, there are three major drivers that all of us in the bank marketing world should focus on in 2016…regardless of the size and scale of institution.
1. Data
Yes, DATA! While this may be a concept your institution has been able to avoid in the past, the truth is that it is quickly becoming too late for many banks to compete effectively without a customer/marketing data strategy.
We aren't just talking about rolling out full blown customer and product profitability, tracking campaign response, predictive analytics and customer decile targeting by behavioral segment, but we are talking about today's banking leaders demonstrating the ability to articulate confidently about what makes their institution viable – it is about more than just financial results and broad growth initiatives…those are table stakes.
This isn't a marketing issue, it is an industry leadership issue. Let's face it, legacy technology platforms and antiquated operational processes have created much of these issues but they still rule behind the curtain at most institutions – for many it is the third rail. The banks (and their data champions) that have demonstrated success, powered through the challenges and internal skeptics and discovered that the key is starting somewhere and even if only directional, data can be very empowering.
Challenge your organization to find 3-5 new and innovative ways to use data to make strategic decisions this year (for instance, use new metrics to measure customer acquisition programs or to articulate tangible success drivers in board reporting or even to measure the success of your community outreach programs…just to name a few). Trust me, it may not be easy but it will be worth it this time next year when you see attitudes change and expectations for more insight and information grow.

2. Market Consolidation
As market conditions have improved in recent years, the state of mergers and acquisitions for banks has re-emerged and appears to be on an upward trajectory for the coming year. Of course, there are many factors that influence a bank's decision to be a buyer or a seller, but a recent survey from Bank Director as well as commentary from industry analysts indicate a much more receptive landscape for a ramp up of bank consolidation.
Regardless of whether your institution is new to acquisitions or is a 'serial' acquirer, the key elements of customer engagement and clarity of communication through any disruptive event have been proven to determine success – meaning satisfied, retained and more profitable customers.
As a leader of your institution, you need to benchmark your customer expectations against those of your soon to be partner – if you are confident you have higher levels of customer engagement, you should expect solid retention numbers post-acquisition and things are rosy; if the institution you are acquiring has higher levels of engagement, you will have your work cut out for you.
Clear and frequent communication remains the key and this is no time to lose your commitment to transparency. The watchdogs will be out to take advantage of any sign of confusion in the planning and execution of customer migration activities – after all, acquisitions provide a growth opportunity not only for the acquiring bank but also for their competitors.


3. Emerging Technology
Finally, an outlook would not be complete without some acknowledgement of the overwhelming influx of money flowing into the technology that impacts banks and the functions that they have traditionally served. With over $6 billion in investments in technology targeted at retail banking alone in 2015, this is one of those times to check to make sure your seatbelt is tightly fastened.
How many innovation labs existed within banks a few years ago – and if they did, did they really know what they were supposed to do? The game has changed and bank leaders (and their vendor partners) better begin to get educated on what is happening – learning from both successes and failures. Again, this isn't just an IT issue, it is a bank leadership and marketing issue as well. Bank products are largely commodities but how you engage your customers and what you choose to offer them are not. This is differentiation at its finest for our industry.
A subtle suggestion for 2016 is to take at least a few moments with your leadership to talk about how these new developments may change how and what your institution plans to do down the road. If you think that isn't worth your time, then just spend a minute to think about the names of your competitors that are discussing them. Not very hard is it?
---------
Each year that passes gives us a chance to take a step back to evaluate the past and think about the future – not just make personal and professional resolutions that many of us have already broken by now. This is an exciting time for banking – despite how exasperated the oversight from the industry initialisms may make us feel – there really are many new ways for banks to provide differentiated solutions to customers.
No matter whether you have 1,000 customers or 1 million, it is always a good practice to pick a few things you know your institution can do very well and expound on them. It may be cliché, but where you are on January 1, 2017 will be determined on the quality and not the quantity of initiatives you undertake now. Focus and execution rarely let us down